Arrange and equip
Which green cross to choose to improve your visibility?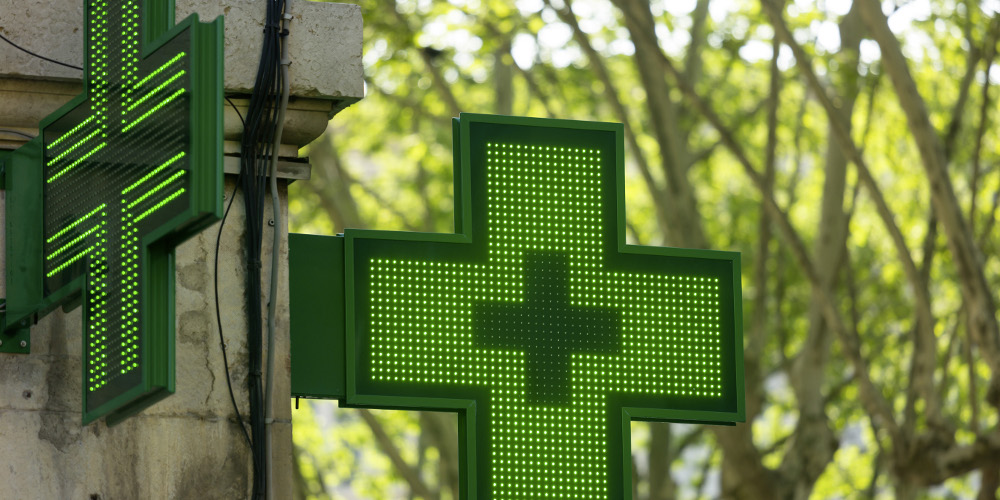 Your green pharmacy cross is no longer doing its job? You have moved ? Come out of the shadows and make your caduceus shine! You don't have one, it breaks down, it lacks attractiveness, it is misplaced… It's time to act! We will enlighten you on the subject to help you find a luminous cross adapted to your sign and a manufacturer capable of carrying out your installation without delay.
The pharmacy cross is the real standard bearer of your dispensary. We must be able to identify you from a distance in the street. To fulfill its role, it must immediately capture the attention of the public, be identifiable in the blink of an eye and be attractive enough to set you apart from your competition. Replacing your old green cross is an opportunity to improve your image and your visibility!
Discover all our practical advice to make the best choice and find a manufacturer and installer nearby.
1 / Preferably opt for a luminous LED cross
Magpies aren't the only ones attracted to shiny objects! Lighting and brightness are two important criteria to take into account to ensure optimal visibility of your pharmacy cross. A luminous, flashing or scrolling cross will always be more attractive to the eye, especially if your dispensary is located in a shopping arcade or a shopping street.
LED cross or neon cross, what to choose?
Choose a French-made LED cross, an ecological alternative to old neon lights. It has many advantages: durability, power, low consumption, remote programmable, resistant to extreme temperatures, etc.
A flashing LED croid, ideal for attracting more customers.
2 / Adopt the right location for your green cross
"It's a rock! … a peak ! … a Cape ! What do I say a cape? ". To do well, we should compare your pharmacy to "a peninsula", variant of the nose of Cyrano because "this is what is called" having a storefront "to be visible on every street corner!
Single cross or double-sided cross, what to choose?
The location, size and area of ​​the illuminated sign are other essential elements to consider in your choice. The type of cross is also determined according to the orientation of your facade:
Can we access your pharmacy from the side? Opt for the double-sided cross positioned perpendicular to the front of your dispensary to increase the visibility points;
Are we arriving in front of your pharmacy? privilege a simple cross. installed directly on the facade for a banner sign: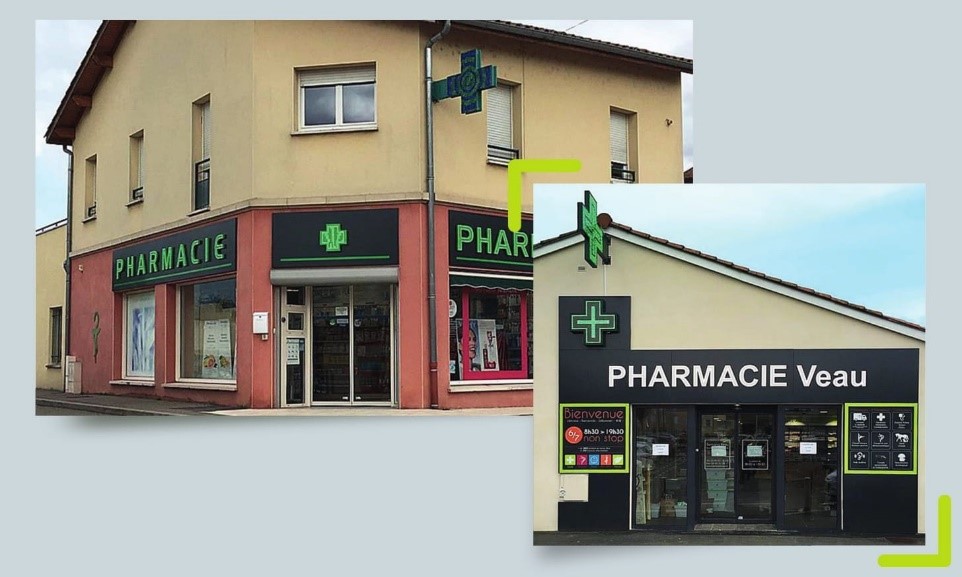 3 / Indicate yourself by a pharmacy pole for orientation
If your dispensary is located in a quiet or difficult to access area, a flag pole (known as a "suspension pole") can be very useful as a pre-sign to better locate you, otherwise "a directional totem" , positioned in a high-traffic area in order to orient your future customers.
Our practical tip
Also remember to highlight your strengths! For example, if you have a parking lot at the back that you cannot guess from the outside, you might as well indicate it with an animated cross …
4 / Stand out from the competition with an animated cross
The choice of your luminous cross is an integral part of the animation strategy of your showcase as well as the covering or digital screens… Nothing like it to stimulate the traffic of your pharmacy! Your pharmacy cross will attract the eye all the more the more it is animated, the gaze being always more attentive to a moving image rather than a fixed visual.
Customize your illuminated sign
The arrival of a new generation of crosses (FULL HD) allows the insertion of various animations that can be programmed remotely from a computer: a display solution at the cutting edge of innovation to discover in this video :
Insert your photos and logos, time-date-temperature …
The choice of an animated cross is an opportunity to enhance your brand image thanks to the multiple customization options: choice of colors, messages, design style and even animations (3D effect in color, images, logos, etc.) !
5 / Take care of your messages to attract the attention of the public
Of course, your illuminated sign has both an advertising and decorative vocation, but not only. The quality of your visual communication being the mark of your external signature, it must also be informative.
What information to display on the green cross?
A modern pharmacy cross brings all kinds of useful information on a daily basis:
the outside temperature and the time,
the level of humidity and air pollution,
the opening hours of your pharmacy.
Consider disseminating personalized short messages to highlight your specialties, your parking access or preventive health messages.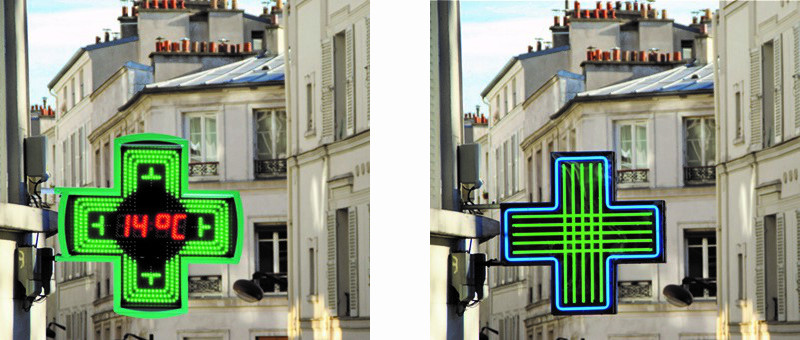 5 / Favor Made in France, a guarantee of quality!
The Made in France has the wind in its sails to the point that 75% of French people think that products made in France are of better quality (1). Consuming locally is now considered an ecological and social act which also has the advantage of traceability!
For some manufacturers, this is far from being an empty word! Indeed, who will repair your luminous cross from who knows where if it breaks down? You might as well call on the expertise of a professional recognized for his know-how and on whom you can count over time.
Promoplast, creator and manufacturer for over 45 years, offers a wide range of illuminated crosses. What to find the one that suits you! In addition, this company is established throughout the national territory. A dedicated expert accompanies you at each stage of your project: free study, manufacture, installation, after-sales service.
6 / Why the green cross and the caduceus?
For the more curious in search of meaning, in Greek mythology the caduceus draws its origins from the scepter of the god Hermes and the cup of Hygeia, goddess of health, while the green cross has its origin in recent history. Before being designated as the emblem of pharmacists (trademark registered in 1984), the green cross was the symbol of military protection. It succeeded the Red Cross, reserved by a law of 1913 for the humanitarian organization of the same name.
Good to know
Pharmacy emblem the cross and the pharmaceutical caduceus are collective trademarks registered with the INPI (2). Therefore, the signage of the cross, the serpent and the cup is defined by strict rules of protection which take the place of law and determine the color, the design, the proportions of the signage … A good hearer, hi!
Leave a comment