Manage on a daily basis
Health crisis: solutions to manage crowds in pharmacies
The global health crisis caused by the Covid-19 epidemic, tackled urgently, raises many questions! Management of crowds, prevention, screening, protection, information… What are the sustainable solutions to fight against the spread of viruses?
1 / How to manage the influx on arrival at the pharmacy?
"In several pharmacies, there are queues that get longer to the outside, to respect a limited number of people per pharmacy" notes a pharmacist. (1)
In times of health crisis, queue management becomes a major issue! To manage everyone's concerns and ward off contagion, here are the best practices:
make people wait outside as much as possible, while respecting the regulatory safety distances;
give priority to the passage of the elderly and frail, to parents with young children;
define a reception center placed at the entrance to prevent the arrival of a patient likely to be contaminated.
"If a patient shows symptoms of the virus, we isolate him and warn the SAMU who will come and get him. »The manager of the Rond-Point Pharmacy (Montrouge).
In times of health crisis, this welcome has several advantages:
ensure the management of "possible or confirmed cases";
answer health questions (without purchase) to limit the wait;
better guide priority people.
Normally, this reception center can become an express collection area for click and collect or prescription scan customers.
2 / What route should be organized to make traffic safer?
In the context of Coronavirus or any other risk of generalized contagion, it is also a question of optimizing your customer journey so that the pharmacist has better visibility on the number of people waiting to better manage patient safety.(2):
define an entry and exit circuit using signage to prevent patients from crossing paths and provide for a single queue;
take care to respect the distance of at least one meter between two patients by a markings throughout the circuit;
indicate a safety line by marking on the ground, all along the checkouts so that each customer is greeted individually;
when you have sufficient space, dedicate a space parallel to the checkouts and not perpendicular, reserved for priority people, closed by a low shelf;
limit traffic on the shelves by placing the essentials (hand cream, lip stick, etc.) and the essentials of the moment (sanitizing spray with essential oils) within easy reach.
In addition to respecting the sanitary distance, during an epidemic – this applies to angina and influenza in particular – it would be necessary to systematize the sale of hydroalcoholic gel at the counter.
3 / Is wearing a protective mask compulsory?
Pharmacists rub shoulders with hundreds of people potentially carrying Covid-19 every day. Just as it is compulsory to wear a helmet on a high-risk site, the same is true in pharmacies for wearing a mask and gloves in the event of a health crisis! Think about used mask bags to guarantee compliance with hygiene measures until the end.
4 / How to protect the sales area in pharmacies?
"I don't really have a choice, I try to be as relaxed as possible and only focus on my work without thinking too much about the risks otherwise we give in to panic when we see everything we are handling, between money, vital card, computer, telephone, cardboard "testifies Ingrid, pharmacist in Sainte-Anne (1).
To allow pharmacists to work in more serene conditions, here are some good practices to disseminate in times of epidemic:
The provision of hydroalcoholic gel at the counters and at the entrance to the pharmacy?
Hand hygiene is a strong act that it is essential to institute at the entrance of the pharmacy to keep this place of health as pure as possible from all microbes. Choose terminals in order to limit the handling of products by your patients.
Protection of the buying counter
Some pharmacies install a glass in plexiglass in front of the counter to protect against germs. Provide a trap to pass prescriptions and medications. Companies aware of the urgency of the situation offer at cost price the custom plexiglass cutout that you can have installed by a local craftsman.
The use of the pharmacy bag
Let us recall it in passing, the pharmacy bag plays an essential role in the good adherence to medical treatments. Likewise, it protects the act of purchase by minimizing the risk of infectious contact.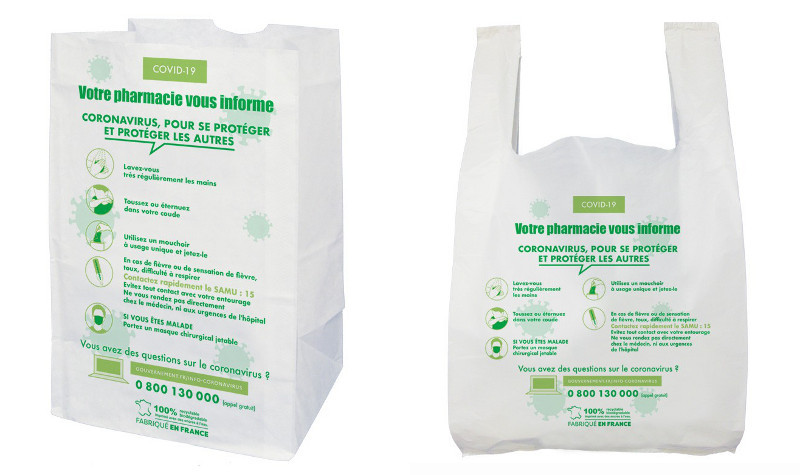 Promoplast has set up a system to manufacture and send COVID-19 bags to all pharmacies in the national territory to facilitate the transport of drugs and their good compliance, ensure continuous information on barrier gestures and limit physical contact (bagless, increased contacts) .
Payment by card blue

As a pharmacist, you handle lots of cards every day. Get used to letting the patient insert their card into the box themselves (vital card, credit card). Did you know ? The Offizy payment solution saves you from touching the customer's bank card. The advantages of this solution:
you avoid touching the device with the automatic sending of the amount to be paid on the terminal;
you speed up transaction processing (twice as fast).
Offizy: the solution for payment by bank card in pharmacies
Contactless payment
Likewise, favor contactless payment, become a habit for 70% of French people(4)! The number one motivation is to save time, but this trend could increase further in 2020 due to Covid-19. To limit fraud, banks currently limit usage to € 30 but this threshold could be raised to facilitate transactions during a health crisis, so as not to add to the ambient stress. (5).
Another alternative that avoids manipulation: customers are increasingly using payment using their smartphone via mobile payment applications like Paylib, Apple Pay or Samsung Pay.
5 / What digital services to avoid direct contact?
Remote services Click and Collect and Scan Prescription allow digital transmission of prescriptions and online ordering of parapharmaceuticals. These new uses linked to digitalization in pharmacies offer many advantages:
minimize contact and reduce waiting times in pharmacies;
save time by preparing medications when you have time;
prevent your patients from traveling for nothing if the medicine is not available …
If you already scan your prescriptions to send them to Ameli, why not offer this service to your customers to collect their prescriptions faster without waiting at the pharmacy?
6 / What prevention and screening action in pharmacies?
The number of video consultations […] jumped 18% […] from the start of the Covid-19 health crisis
Certain preventive actions can be taken to anticipate the health risks associated with an epidemic.
Medical teleconsultation
To face the risk of saturation of hospitals and general practitioners, and especially in the event of an eloquent symptom, encourage your patients to call for medical teleconsultation rather than going to the pharmacy. The number of video views scheduled per day on Doctolib jumped 18% in appointment bookings at the start of the Covid-19 health crisis (6).
Disease screening
For certain diseases, it is now possible to carry out a rapid diagnostic orientation test (TROD). Since 2013, angina and influenza screening tests have been offered in pharmacies (7). And since 2019, screening for HIV infection has been implemented (8).
In the case of Covid-19, the French government has so far favored a policy combining confinement and screening targeted to "only people with breathing difficulties or chronic diseases" specifies the Ministry of Health. Only two types of professionals are authorized to perform the tests: nurses and biologists.
Patient information
The pharmacist also has an active role of vigilance and participation in health alerts:
favor a clear and visible display of posters selected by the ARS in your region to relay the campaigns;
but install a dynamic screen will be more effective in giving visibility to your messages;
communicate on barrier gestures that limit the spread of the virus;
encourage your patients to seek advice from the pharmacist;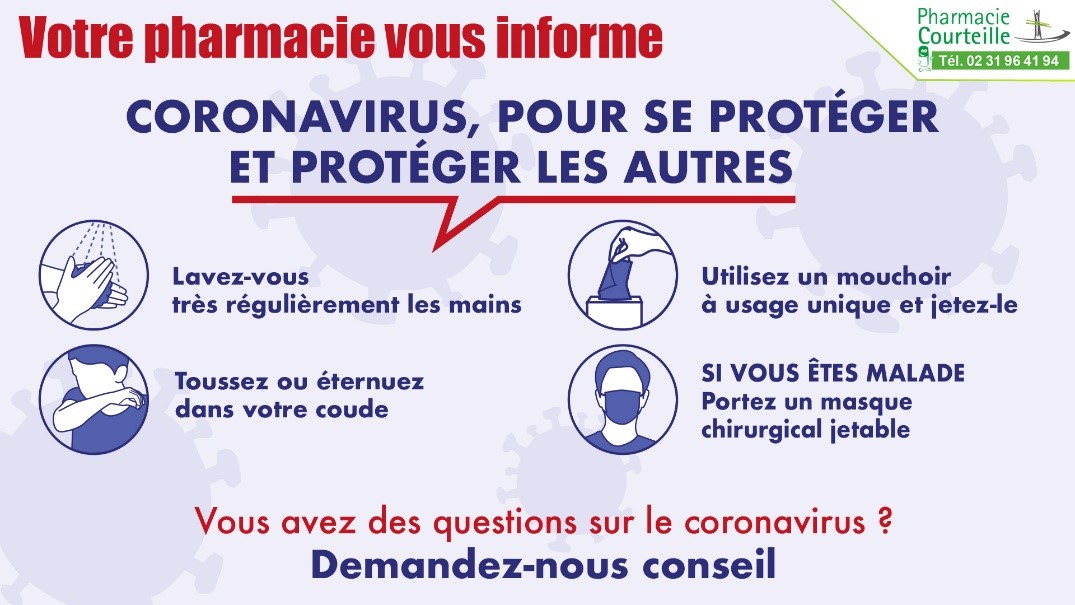 Dynamic screen: Coronavirus to protect yourself and others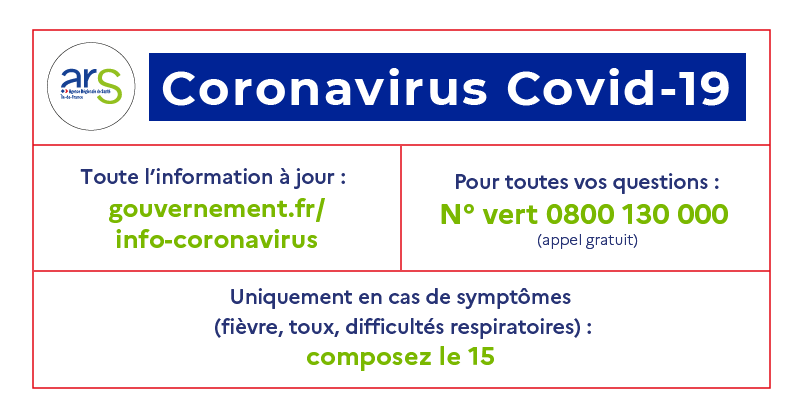 Dynamic screen: information services and numbers to contact
Finally, if you join a loyalty program for your customers, as it is part of your prerogatives, the priority is to distribute your health monitoring messages to your customer file via SMS or e-mail.
SOURCES:
(1) RCI FM – March 20, 2020 : Pharmacist (…) they rub shoulders with the virus on a daily basis.
(2) L'Oréal – April 24, 2018 : Knowing how to manage the wait in the pharmacy
(3) Le Monde – March 16, 2020 : The lack of masks recurrent scourge of doctors.
(4) Ifop / Mastercard barometer – July 16, 2019 : contactless payment is a habit (…).
(5) Moneyvox – March 16, 2020 : Bank card: the contactless limit (…).
(6) The Doctolib Blog – March 17, 2020 : The number of planned video consultations (…).
(7) Why Doctor – March 17, 2020 : Pharmacy screening tests will soon be reimbursed.
(8) Ameli – November 14, 2019: Screening for HIV – TROD HIV – Self-tests
DEFINITIONS:
COVID 19 : The disease appears in China at the end of 2019, caused by SARS-CoV-2, a virus that belongs to the coronavirus family. Covid-19 can cause a simple cold or a serious pneumonia-like respiratory infection, causing fatal epidemics as was the case with SARS or Mers.
HIV: Human Immunodeficiency Virus
Leave a comment