Communicate better
8 effective ideas to boost the activity of your dispensary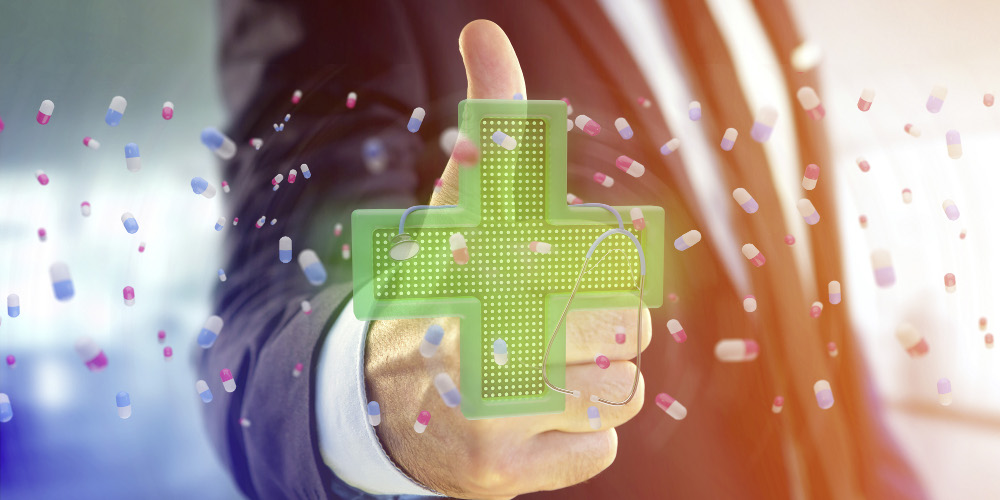 What are your 2021 resolutions for your pharmacy animation? Stop the windows that give the blues! While waiting for the Covid-19 to pack up, the pharmacist's blog invites you to stock up on good ideas! Enough to offer your customers a pharmacy to make your competitors green with envy …
Gone are the days when pharmacy entertainment boiled down to juxtaposing advertising posters in the window … A major player in French health, a dispensary must physically reflect this central role. This is about formalizing the health highlights of the year and making patients want to push the door regularly! Follow the leader…
1 / Opt for attractive pharmacy signage
To arouse curiosity, reinforce the visibility of your facade and your window. Do not neglect the pharmacy signage outside, starting with the installation of a green cross bright and lively to boost your traffic. We must be able to identify you in the street at first glance from a distance. There is now luminous colored crosses with 3D animations and scrolling text that can be changed according to your news. Communicate from afar …
Choose your green cross according to the size of your sign and the style of the facade.
2 / Decorating your pharmacy showcase is eye-catching
The objective of the window is to capture the attention and seduce the passer-by to stop and look. Due to lack of time, we often end up with a window that superimposes the laboratory ads, mixing genres, between advertising and promotions, the consumer gets lost!
Your window must convey an atmosphere that immediately puts the visitor in confidence. Graphic identity, pharmaceutical specialties, practical information… Leave nothing to chance, while remaining sober enough to maintain your credibility.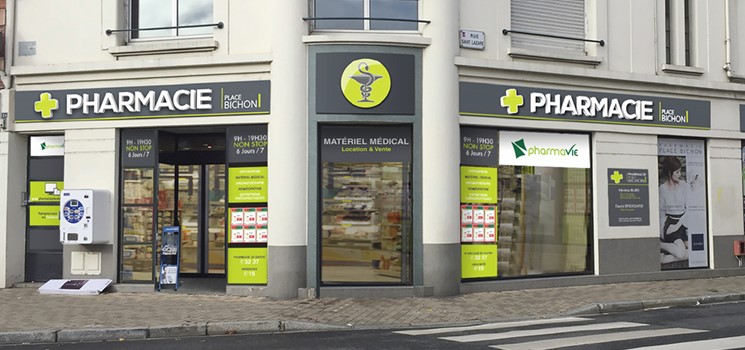 Seasonal window displays
Favor seasonal window displays to capture attention, it reflects the dynamism of your pharmacy. Here are some recurring theme ideas to inspire you:
in winter: cough, skin, fatigue, cosmetic gifts,
in spring: hay fever, weight loss, care before sun exposure, stress before exams,
in summer: insect bites, sun products, motion sickness,
in autumn: acne, fungi, lice, hair loss, restraint.
4 / Create the event to generate traffic
Bringing new life to your pharmacy also means offering regular events, to be relayed in the window and in the store to optimize the impact of the operation. Remember, your window is the first contact with the pharmacy: a neat and original window is a mark of dynamism and a quality welcome.
There is no lack of opportunities to decorate your window every month (summer vacation, back to school, Halloween party, Christmas…). You can call on a window designer for your stagings or install your decoration kits yourself (solar kit, Christmas kit, pink October kit, etc.).
5 / Carry out activities in pharmacies
Animating your dispensary also means organizing one-off events around themes that interest your patients to give new reasons to come and thus cultivate the link of proximity and encourage purchase:
Create a dietetic animation (aromatherapy …) around a free advice workshop led by a pharmacist nutritionist, and gifts to customers;
Launch a drawing competition for children at the start of the school year, with temporary creative space in the pharmacy.
6 / Capture attention with screens digitaux

Do you want to rejuvenate your pharmacy? Ideal for capturing the attention of your dispensary, thedynamic display screen is the best performing of the media. A major vector of image and updatable at will, it allows you above all to animate your showcase in just a few minutes.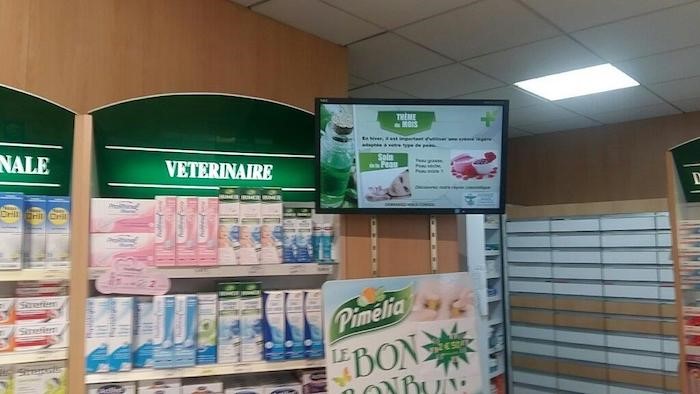 Prevent against the flu
If you choose, for example, to tackle prevention and influenza treatment… On a background of animated flakes and a well-wrapped snowman, you could make three distinct panels in permanent rotation during the winter period. (1):
One "before the flu" on barrier gestures (hand washing), vaccination early enough;
The other "during the flu" on the treatment: rest time, Paracetamol, isolation;
The third "after the flu": strengthen the immune system, regain strength.
To support this operation, you can show recommended products in the window (Bion 3, "Be strong from the inside") in your digital animation, on sale in pharmacies.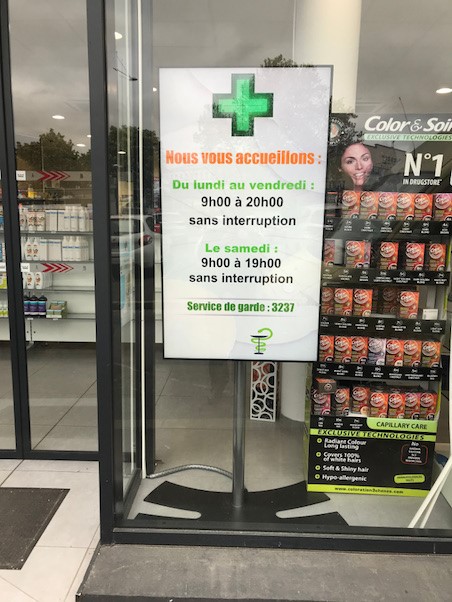 7 / Develop powerful advice slogans
Of course, communications should serve as a visual eye-catcher, but communicating in clear language is also essential whatever your media. The slogan must attract attention and therefore evoke a strong image or call out "influenza vaccine: you are concerned!" "
It is important to remain as concise as possible in the choice of your slogans (five to seven words) and popularized to encourage your patients to ask you for advice.(1) :
Back to school, out of the lice! (anti-lice)
It itches, it stings, you are allergic
Don't let your hair fall out!
Tan in complete safety! (Solar cream)
No longer live out of breath (about asthma)
Be zen! (herbal calming)
8 / Optimize pharmacy merchandising through advice
Beyond ensuring the visibility of your brands, it is the right advice that determines the act of purchasing in pharmacies. As a pharmacist, you must therefore go further: your patients expect more a service than a product …
"I come to my pharmacy to seek warmth, the relationship of trust and of course, the health expertise of my pharmacist" according to Pauline.
Staying close to your patient is therefore essential. Your animations must therefore be adapted to the real needs of your customers if you want to have an impact on them. For example, set up your childcare department by associating it with a play corner, so parents can consult the pharmacist while keeping an eye on their children.
Leave a comment